Stone Partridge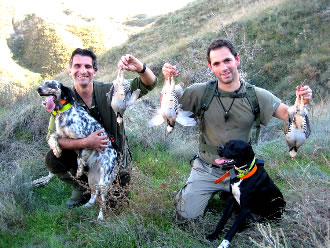 Another interesting sort of hunting in Azerbaijan is the hunting on stone partridges. The main hunting area is Shamakha, Sheki and Oghuz. The exact place of hunting depends on order time as well as on observations of our huntsmen. Hunting season is in September-February.
Representatives of our company will meet you at the airport of Baku and help you with execution of custom documents as well as with the procedure of gun transportation. Visa can be issued here in the airport. Afterwards we follow to a hunting area. The way will take 4 hours. A stop for lunch or supper (it depends on arrival time) in a restaurant will be done. Upon the arrival we settle in a hut. Hunting starts at 5-6 a.m.
The hut is very comfortable, spacious and clean. There are 3 rooms in the hut, each one intended for 2 persons. In the hut there is a large living room and a dining room with soft arm chairs and a sofa, a toilet and a shower. The hut is also equipped with permanent electricity. In the evenings you can be entertained by watching the TV. Professional cook perfectly prepares dishes of national and European cosine.
Hunting on Stone partridge begins early in the morning. After the breakfast is finished we follow to hunting zone on jeep. The way will take about 30 minutes. Upon the arrival a huntsman determines the direction of our movement. If you have a dog this will facilitate your task, if you do not, there is no problem because our huntsmen always bring their own ones. During the day every hunter can get 15-20 stone partridges. In the day time we usually stay in the hunting place and in the evening we come back to our hut where a supper is waiting for us. Duration of hunting is 3-5 days.
Organization of mixed hunting Duck-Woodcock-Stone partridge is possible as well. In this case just send us a request about the number of hunting days and hunters in group. We can supply you with our guns like we do that in the duck hunting.