Ducks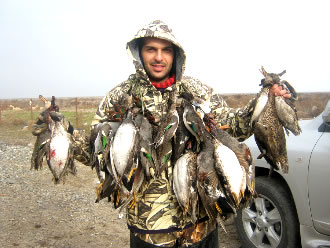 Hunting on waterfowl occupies a special place in Azerbaijan. The number of migrating ducks in Azerbaijan directly depends on the beginning of frosty weather in Russia. When lakes are frozen over the ducks move to Azerbaijan and spend here the whole winter till March. Hunting season is mid September-March.

Representatives of our company will meet you at the airport of Baku and help you with execution of custom documents as well as with the procedure of gun transportation. Visa can be issued here in the airport. Afterwards we follow to a hunting area. The way will take 3 hours. We will have lunch or supper (it depends on arrival time) at the base. It is possible to organize hunting in the afternoon or towards evening immediately upon the arrival to a hut, but usually hunting begins at 5 a.m. The hunters are hunting in the morning, in the afternoon and in the evening with breaks for having a dinner. They can have a short rest as well.

The hunt is very comfortable, spacious and clean. There are 4 rooms in the hut, each one is intended for 2 persons. In the hut there is a large living room with fireplace, soft arm chairs and a sofa, a toilet and a shower. The hut is also equipped with permanent electricity. In the evenings you can be entertained by watching the TV. Professional cook perfectly prepares dishes of national and European cosine.

We organize hunting on ducks on the lake Sari-Su (40° 1'4.83"С- 48°13'8.70"В). This lake has the largest number of ducks and gooses in Azerbaijan (400-500 thousands waterfowls in the winter). Italian and French hunters are our frequent guests. Every day 30-50 ducks can be got per a hunter. Duration of hunting is 2-5 days-upon the request of hunters. Hunting is conducted from the boats and hides. We use hunter's whistle as well. A personal huntsman will be assigned for every hunter. The hunting area is near the hut, just 10 minutes journey from it.

Frequently one can shoot a number of gooses as well. Not far from the hunting area in a small forest we can organize hunting on woodcock. We can also supply hunters with semiautomatic guns if they do not have their ones.